There are several coaching options available at St Peters.
In 2017 we teamed up with the Hamilton Tennis Academy who are offering squads and individual programmes.
Here is a link to their website.  http://hamiltontennisacademy.co.nz/
Here is their coaching schedule for this term.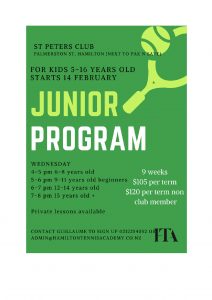 We also have private coaching available from Ray Bos and Martin Gould.
Ray has coached and played in the USA and NZ, and Martin has played internationally and ran the largest tennis school in Hong Kong.  Both provide excellent coaching and have been at St Peters for several years.  Ray and Martin have limited times they are available and can be contacted through St Peters Tennis Club.
Please contact St Peters as to what will suit your tennis needs.